Hunt.
<![if !supportEmptyParas]>
Bongo hunting is one of the most difficult hunts of the African continent.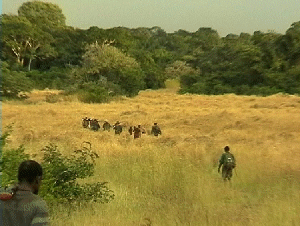 Due to several reasons:
The reasons of this difficulties are bound little to the biotope auspicious to surprise the animal in forest.
<![if !supportEmptyParas]>Our knowledge of this animal and these habits allows us to pretend to put you in the best conditions to search for the most beautiful bulls.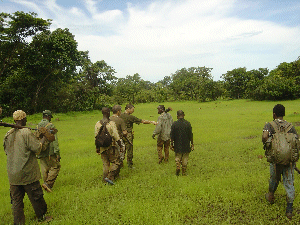 The success of a safari bongo depends on:
<![if !supportEmptyParas]> For us. We must unite three essential requirements.
A territory adapted to reach the frequented points, salt marshes, potopotes, rivers.

To have rain.

To find the trace of a lone animal in priority and quickly in the morning after rain therefore to have permanent information.

To cover a very big territory for the selected most beautiful specimens.
<![if !supportEmptyParas]> <![endif]>
We hunt therefore with teams formed of trackers of the zone assisted by Pygmy and their dogs.
<![if !supportEmptyParas]> <![endif]>
For this we chose the sectors non hunted since 15 years and others ever explored. These sectors were zones of hunt for elephants big ivory carriers.This is the sector for the biggest bongo (to see SCI book for the places of obtaining, along the rivers M'Bomou, Chinko, Bira, Vovodo, Rafaï, Dembia, and in easter n°1, n°3).
<![if !supportEmptyParas]>We know all practicable modes of hunt and an experience of more than twenty years of success in these zones of the East, but also in big equatorial forest (see Professional Hunter).
The choice that we made allows you to find some big trophies and we moved with the complete teams of the Cameroonian border until there.
<![if !supportEmptyParas]>Our specialty is the hunt of the big bongo and we unite all better conditions hoping to improve the records.
Coming to hunt the bongo with this organization makes you hope to find the new number 1. (to see the bongo gotten by Mr Carlo Caldesi in the south of our zone on 1967 and that taken by his son in 2004 in the same zone)
<![if !supportEmptyParas]><![if !supportEmptyParas]>We chose this territory to improve the quality of the results on the bongo but also to find other superb animals to complete such a safari.
To find the number 1!
Organization, Professional Hunter: Jacques Lemaux
via Bovecchio 45, Barberino di Mugello, 50031 Firenze, Italy. Tel/Fax: +39 055 8420670.
Email: jacques.lemaux@tin.it