Territory and historic of the hunting area.
700 000 hectares for 10 bongo maximum per year to maintain a quality of trophy.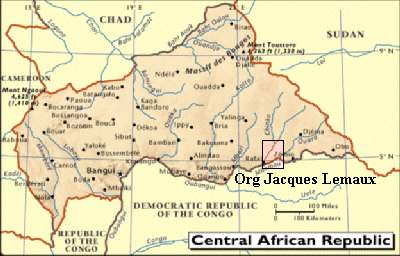 <![if !supportEmptyParas]>The limits south and west of the sector are the M'Bomou river and the Chinko river
The limits east and north are Ouara river and Vovodo river.

The first airfield of 1,3 km of length is situated in Rafaï .

The second airfield of 900 meters of length is situated in Baroua.

80 kilometers of national tracks join Rafaï in Dembia.

80 kilometers of tracks join Dembia in Baroua.

70 kilometers of tracks join Baroua in the Chinko.
All these tracks give access to small roads to approach some salt places (salines).
In all these zones of the East of CAR the biotope is intermediate between the equatorial forest and the shrubby savanna..Here the forest alternate with very big savannas. They give the aspect of big open lawns. It is the place privileged to meet the yellow back duikers, the bushbucks ...
<![if !supportEmptyParas]> <![endif]>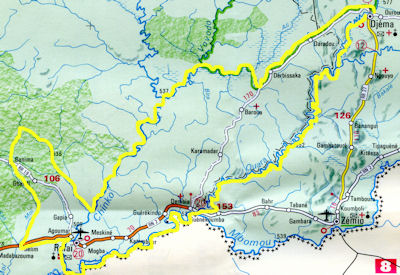 Historic of the sector.
All the East of the CAR is the third party of this immense triangle of the south Sudan and the north of the RDC where there was the big seasonal migrations of the big ivory carriers elephants. It is the place of predilection of an abundant and rich vegetation. The rainseason, walnuts of karité and mangoes created the movements of these herds.
This rich and hospitable province with enormous inhabited zones was kingdom of the wild animals. The traditional hunt is to follow tracks and to the call.
In 1979 the first incursions of Sudanese poachers decimate during 20 years the population of elephants whose survival is obliged to their intelligence, their adaptation, their vigilance, their rarity and the biotope.
The other animal are always present and the bongo was never poached. The hunting area regroups today the sectors exploited once by various societies as Safeca, Sacaf, where worked number of P.H. that let their names to tracks or salt marshes.
Mickey Michelletti is the first P.H. that organized the first safari for the bongo and gets a magnificent exemplary.
Organization, Professional Hunter: Jacques Lemaux
via Bovecchio 45, Barberino di Mugello, 50031 Firenze, Italy. Tel/Fax: +39 055 8420670.
Email: jacques.lemaux@tin.it